HANDHELD CHARITY POT/BOX/Box SECURITY POLYESTER CORD Suppiled in packs of FIVE £ 2 - 50 + vat
Supplied in standard lenght of 1 metre x 5 mm Red, Burgandy, Orange, White, Black, Yellow, Green, Pink, Light blue, Pale blue, Dark Blue cord.
Please e - mail us at alphafundraising@hotmail.co.uk or Michael@alphafundraising.org if you require longer cord lengths.
When supplied with our charity Pot/Tins or Buckets the Security Cords are vat free for registered charities
Our Polyester Cords are supplied in the same colour as our pots/tins and buckets.

Our Polyester Cords are very strong, equal in strength to expensive chains measured
by hand pulling tests. All security devices like our security cords are to stop the
opportunist thief snatching and making off with your collection box.
When attached with a simple knot they are very secure.

We supply to many charities, both large and small, and worldwide.
We understand the importance of quality price and delivery.

Returns
We are sure you will be happy with your purchase. Should you have to return an item to us, please return the goods unused and in their original condition, within 14 days of receipt and a full refund for the cost of the goods will be made.

Please note that the customer is liable for the cost of returning the goods to us.
For more information about our returns policy please our
Delivery and Returns Section Here
FEED BACK FROM CLIENTS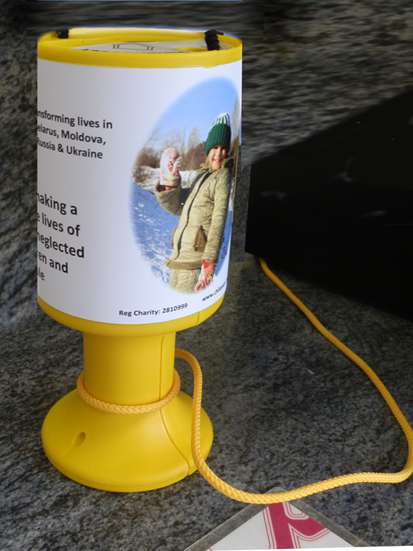 Transforming the lives of neglected children in Belarus, Moldova, Russia & Ukraine
" We have recently purchased a number of collection pots from Alpha Fundraising and were delighted to discover that rather than the unattractive, and more expensive, metal chains they are now able to offer a security cord. Such security is only to prevent the casual "grab and run" theft so strength is not of huge importance and these cords are perfect in that they match the colour of the pot so are discreet and are very smart.
It is a far more pleasing display for the shop owner and ChildAid's supporter, Louise from Printing Progress in Bromley confirmed this be noting that "yes, these are really quite pleasant and more in keeping with the relaxed and welcoming approach to my shop".
Martin Wilcox
Charity Manager, ChildAid to Russia & the Republics
Tel: 020 8460 6046 Web: www.childaidrr.org.uk
Follow us on Twitter Find us on Facebook
Security Polyester Cord colour range
Product Code: Accessories: Security Cord
Availability: In Stock
This product has a minimum quantity of 5